---
Welcome to my home page.
As all other home pages this page is also under construction but it should be mostly functional now.
The page does show that I work as a programmer, but when the day is over and I go home I am ... a programmer too.
I stayed up at the night of 2004-10-28 to see the lunar eclipse. I got a reasonable picture: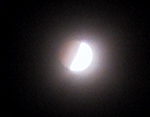 The later eclipses were either at cloudy nights when I did'nt have my camera with me.
Recent activity:
Looking for my old home page? It is still accessible here.